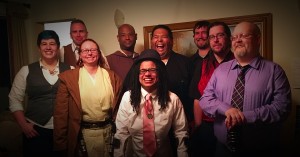 The 2017 California Gathering is open for registration!
Join us from 4pm August 10th to 12pm August 13th in the Santa Barbara mountains for the second annual California Jedi Gathering, a weekend of training, fellowship, and fun. We will be staying in a beautiful house with a deck for viewing the sunset in the mountains, space outdoors for lightsaber training, a pool, and enough space for our growing group.
It costs $100 dollars per person for the whole weekend before June 1st; after June 1st up to a week before the gathering is $120. Bedding and linens are included in the price, travel and food are not. As we draw closer to the event and coordinate food, I will notify you of the food costs for the weekend; it was $35/person for the weekend last year, so I expect it to be similar.
Registration is open to all Jedi, with your spot held upon receipt of payment (filling out the registration form puts your name on the list and holds your spot until two months before the gathering). Payment will be due June 1st; after June 1st, the cost goes up to $120. You can send the gathering payments through paypal (friends & family money) to mockkatherine@gmail.com.
There will be people driving from both the north and the south, so carpooling is available, as well as airport pickups for our guests that must or would rather fly. I hope to see you all there! If you have any questions let me know.
In order to secure your spot (we have up to 20 spots this year), please fill out the registration form below, and send your payment through paypal (money to family and friends) to mockkatherine@gmail.com.